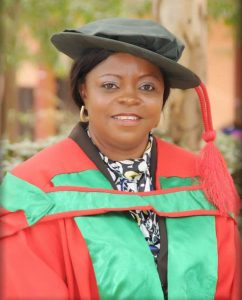 Dr. Regina, Ijeamasi Enebechi holds a Ph. D, M. Sc.(Ed) and B. Sc. (Ed) in Science Education/Biology from the University of Nigeria Nsukka and an NCE in(Biology/Integrated Science) at the then Anambra State College of Education Awka, now College of Education, Nsugbe.
Dr. Regina Ijeamasi Enebechi became the Dean, School of Sciences in first, January, 2013 till date. She is a prolific writer. She has many articles published in reputable Journals.  Always obsessed with the idea of quality in all her undertaking, Dr. Regina Ijeamasi Enebechi is currently the Director Quality Assurance of the Institute of Ecumenical Education, Thinkers Corner, Enugu.
She is a Fellow Corporate Administrative Institute (FCAI), a member Science Teachers Association of Nigeria, (STAN). A member Teachers Registration Council of Nigeria with Registration No:  TS (01419).
She is happily married to Engr. Anthony Ani Enebechi of Uwani Umudioha Imezi-Owa, Ezeagu Local Government Area, Enugu State.
Philosophy of School of Sciences:
Nigeria cannot afford to ignore the role which science subjects play in achieving the National goal of technological development.  Therefore for meaningful teaching of science subjects in our primary and secondary schools, there is a need to produce professional teachers in science disciplines such as biology, chemistry, physics, integrated science, mathematics, computer science e.t.c. The Nigeria Certificate in Education Minimum Standard for sciences is designed to produce knowledgeable, highly motivated, competent, efficient and effective teachers who will be able to develop in students an appreciation and understanding of science concepts and principles. The programme is also designed to develop confidence in science teachers and enhance their ability to adapt to the changing situations in science and technologically oriented society.
Objectives of School of Sciences:
The aims of teaching and study of sciences are to encourage and enable students to:
Develop inquiring minds and curiosity about science and the natural worlds.
Acquire knowledge, conceptual understanding and skills to solve problems.
Make informed decisions in scientific and other contexts.
Departments under School of Sciences:
Department of Biology Education
Department of Physics Education
Department of Chemistry Education
Department of Integrated Science Education
Department of Mathematics/Computer Education
Department of Agricultural Education
Click below to read the requirements for application

Proceed